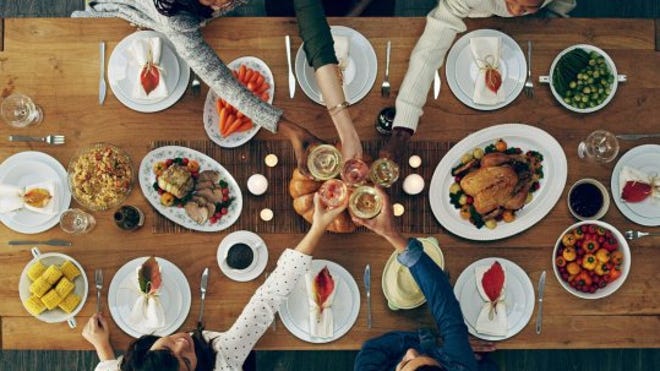 I don't know if you've ever thought about it, but Thanksgiving is purely a theist's holiday. I've often thought, "how confusing is it, for the atheist to have a moment of profound gratitude, but then no one to thank? And with my title question, I'm not trying to be snarky. I've actually asked this question of an atheist and his answer made me think more deeply about my own gratitude. He said, he was grateful for everyone who had ever done anything for him in his life. He was thankful for those who labored to build his house, for those who worked to gather the materials needed to construct the house, for the engineers and plumbers who made water come to his house, allowing him to have to drink that morning. He was thankful for those who invented electricity and those who figured out how to get that electrical current into his house, which allowed him to have lights and appliances, and heat in the winter and cooler air in the summer. He was thankful for those who engineered and built the roads that he drove on that day, and for the designers of automobiles and for those who labored to create the car he drove to work, and everywhere else he went.
You can see where that goes. Appropriately, on and on, it goes. When you stop and think about it, you and I have infinite reasons to be thankful today- and an infinite number of people to thank. But as, not only a theist, but as one who trusts in God, and as a follower of Jesus Christ, my gratitude extends far beyond people and circumstances, to the Giver of all things in life. If my gratitude terminates on the gift and does not move me to the Giver, it ends prematurely. My worship is short-sighted (if, indeed, it is worship at all). It is appropriate to express gratitude for people in our lives, and especially to those who have genuinely impacted our lives for good (thank you, Steve Jobs, for helping bring about this MacBook Pro I'm typing on right now). But of course, Steve Jobs is gone, and I can't thank him directly or personally. My gratitude seems weak and disingenuous. All expressions of gratitude for the stuff of this world fall short of ultimate gratitude and thanksgiving.
We should all be thankful and humbled today, if we know who to thank. Thanksgiving, though directed and expressed to another, does many things within our own hearts. Thanksgiving is a reminder of God's love for us and His provision for us. Thanksgiving is glory-giving. As we thank God, we give glory to Him. Thanksgiving is one of the most profound ways for us to do what we've been created to do. Giving thanks right-sizes us before God Almighty, the Maker of heaven and earth. It reminds us that we are in need, a lot more than we think we are. And we need Him above all else. Apart from Him, my atheist friend has nothing to be thankful for. As I explained to Him, ultimately simple cause and effect should drive us to God. We have (the effects) because of Him (the Cause). And ultimately, you get to the un-caused Cause, which is God Himself.
Take a moment this week and give thanks:
Acknowledge WHAT you have. Count your many blessings. Name them one by one.
Acknowledge WHY you have what you have. It is not by your own doing.
Acknowledge HOW you have what you have. You have been blessed. All of life is a gift, thus, implying a Giver. Thank Him for how He has blessed you.
Acknowledge WHO you have. He has given us each other. Thank Him for your family and friends. Thank Him for using imperfect people (like you and me) to bless your life- that's all He has to work with. Extend some grace to family and friends this week. Life is too short not to forgive.
God has given us the greatest Gift of all. Let us pause and thank Him for salvation that has come to us in Jesus Christ.
"He who did not spare His own Son, but gave Him up for us all – how will He not also, along with Him, graciously give us all things?"  Romans 8:32  
All of God's blessings begin with Jesus. Unlike the atheist who suddenly feels profoundly grateful and wonders who to thank, we know who to thank. Our gratitude is ultimately focused on a Person. His name is Jesus.
"God so love the world that he gave His one and only son so that whosoever believes in Him would not perish but have eternal life." John 3:16
Thank Him for your salvation- and share His love with others.