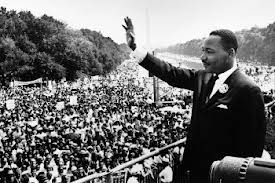 On January 15, 1929, Michael Luther King Jr. was born in Atlanta, Georgia.  His name was later changed to Martin, the son and grandson of Baptist pastors.  He himself served as co-pastor with his father at the Ebenezer Baptist Church in Atlanta while he became the central figure in the civil rights movement in the United States.  On August 28th, 1963 Martin Luther King, Jr. delivered a speech that would shake a nation and the world (and I can tell you, by the way, as a pastor/preacher- one who traffics constantly in words- this is one of the finest speeches/sermons ever preached).  Dr. King was so articulated, so clear, so picturesque in his words, but what drove his message home was his passion- and even more so, I believe a divine anointing upon his life.  Consider the fact that he was only 34 years old.  Martin Luther King, Jr. had a dream and it was a dream aligned with God's dream for a better world.  Let his words resonate in your heart again:
"I have a dream that one day this nation will rise up and live out the true meaning of its creed: 'We hold these truths to be self-evident: that all men are created equal…. I have a dream that my four little children will one day live in a nation where they will not be judged by the color of their skin but by the content of their character. I have a dream today."
"…One day right there in Alabama, little black boys and black girls will be able to join hands with little white boys and white girls as sisters and brothers.  I have a dream today.  I have a dream that one day every valley shall be exalted, every hill and mountain shall be made low, the rough places will be made plain, and the crooked places will be made straight, and the glory of the Lord shall be revealed, and all flesh shall see it together."
In March of 1968, Dr. King, went to Memphis, TN in support of mistreated black sanitation workers.  On March 4th he stood with a friend outside his hotel room on the second floor balcony.  A shot rang out and an assassin's bullet hit Dr. King and the civil rights leader was dead at the age of 39.
To get deeper into the heart of this man we need only listen to his final words preached the night before he died. Listen, in light of what would happen the next day: "Well, I don't know what will happen now. We've got some difficult days ahead. (Amen.) But it doesn't matter with me now. Because I've been to the mountaintop.  And I don't mind. Like anybody, I would like to live a long life.  Longevity has its place.  But I'm not concerned about that now.  I just want to do God's will.  And He's allowed me to go up to the mountain.  And I've looked over.  And I've seen the promised land.  I may not get there with you.  But I want you to know tonight, that we, as a people, will get to the promised land.  And I'm happy, tonight. I'm not worried about anything.  I'm not fearing any man.  Mine eyes have seen the glory of the coming of the Lord."
Martin Luther King had a life mission.  His one life made a difference.  Let me ask you, do you think that only certain people have a mission in life?  That maybe there are only a few people who really have a God-given dream?  Or could it be that every single one of us has been given a dream- by God- to serve His eternal Kingdom purposes while we're here on this earth?
Throughout this month let's allow the life and the words of Martin Luther King Jr. (and even more so, the words of our Lord Jesus) to inspire us to dream as well.  Each of us has a God-given dream that He's calling us to live.  And our God-given dream has the potential to change our world.  Your dream may or may not find its way on the national or international stage (it may!) but your God-given dream is unique to you and given to you to fulfill your life's purpose.
So, let me ask you: What do you dream about?
Questions to Ponder this Month:
What is your dream for life?
What is the vision/calling (or God-given picture) of your life?
If you had unlimited resources (of time, money, energy, people) what would you want to accomplish with the rest of your life?
What do you love to do more than anything else?  What makes you feel fully alive?  Why?
What do hate the most?  What makes you angry?  Why?
What do you do best?  What are your best gifts?  (You've heard others tell you this).
What is God's unique mission for your life?
How will you fulfill this mission- starting today?
What is your dream? LIVE IT.