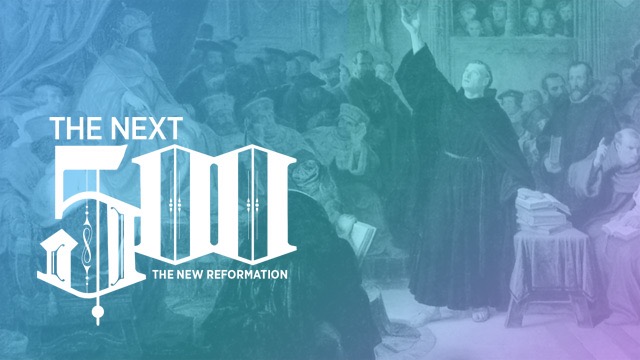 October 31, in 1517, was a day that changed the world. It was "All Hallows Eve", the day before the day when all "hallows", or "saints" who had died were recognized and honored. Hallows Eve is now our Halloween, still the day before all saints day. On that day, in 1517, a little known priest named, Martin Luther, posted 95 theses (grievances, complaints) that he had with the Catholic Church, by nailing them to the front Door of the Church in Wittenburg, Germany (where he was a priest and university professor). Though odd to us today, his act was a way to post an opinion to the public (like a writing on an OpEd page or posting on Social Media). The printing press was just coming into play – which would be as dramatic as the advent of the internet- but by nailing his 95 theses on the church door he was launching his opinions for anyone in town to discuss, deliberate, and debate. This single act sparked the Protestant Reformation.
The Reformation was a rediscovery of the major beliefs of orthodox, biblical Christianity. It was a rediscovery of the Gospel. This year marks the 500th anniversary of the Reformation. Historians and theologians observe that, about every 500 years, the empowered structures of institutionalized Christianity, whatever they may be at that time, become an intolerable covering, or a hard shell, that is broken, even shattered, in order for renewal and new growth to occur. It's an unsettling time, but the result is always a fresh and revitalized expression of the Faith, and advancement of the Gospel. Consider, of course, the Great Christ event (His incarnation, perfect life, substitutionary death, and victorious resurrection) that split history into BC and AD. Then around 500 years later we see the Great Fall of Rome occurred and the Great Pope (Gregory) brought reform to the Church and the Gospel spread westward into Europe. Then the Great Schism (of 1054) took place, that split the Church between the West (Roman Catholic) and East (Orthodox Church). Then, in the 1500s, the Great Reformation took place, resulting in a dramatic shift of theology and practice- called Protestantism. And now we're experiencing what some are calling the Great Emergence. We're praying for a Great Revival that will bring dramatic changes.
Historically, when this upheaval takes place, there is first, a more vital form of Christianity that does indeed emerge. Secondly, the organized expression of Christianity (that up until then had been the dominant one), rediscovers a more pure and less fossilized expression of its former self. And thirdly, every time the fossilized form of an overly established Christianity has been broken open, the Gospel has spread dramatically into new geographic and demographic areas, which exponentially increases the range and depth of Christianity's reach as a result of its time of unease and distress.
So what we see in the Reformation is that the birth of Protestantism not only established a new, powerful way of what it means to be "Christian", but it was a history-making shift that resulted in social and cultural movements of global proportions. We are experiencing that kind of historic shift in spirituality and Christian life in our day. Through it all the Church remains the most resilient movement on the planet because she is constantly being driven back to her roots, by faithful preachers and Gospel-centered teachers who are found devoted to the Scriptures and centered on the Gospel of Jesus Christ. The "New Reformation" that is critical in our day, is calling us back to a biblical, orthodox Christian faith. It is again, a rediscovery of the Gospel and all its implications. It is a rediscovery of Christ Himself and how His Spirit lives in us. As we celebrate the first reformation throughout the month, we will be exploring the new reformation that is needed in our minds and hearts today. I hope you will join me and pray for revival in your heart during this significant time.